News & Updates
We Won! Best Theater in New Jersey to see a World/NJ Premiere
Marshall Jones III December 02, 2017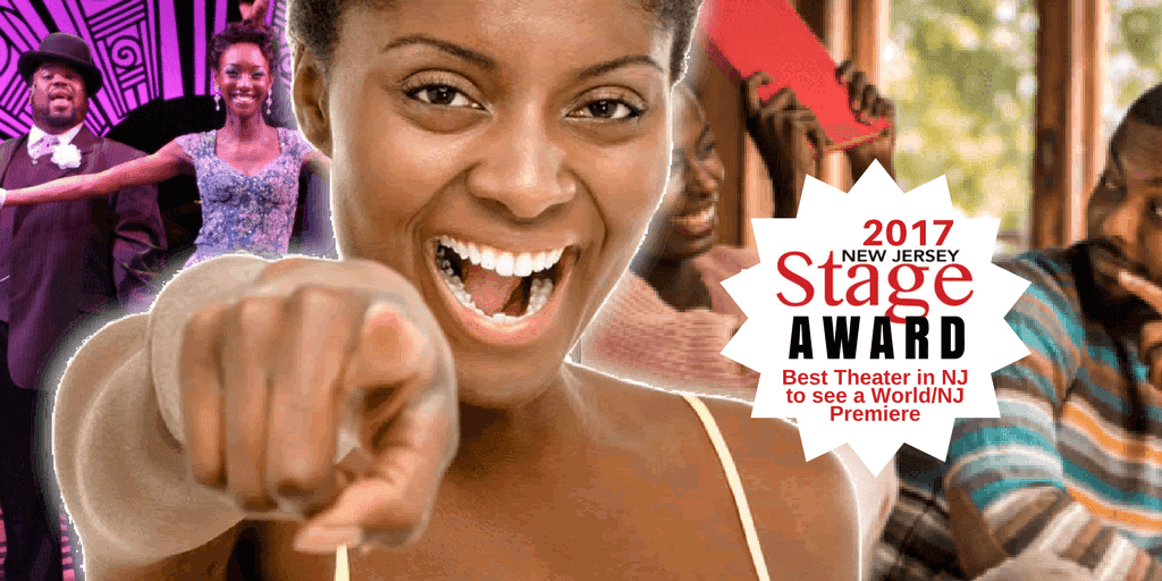 Yeah, we did that-- Winner 2015, 2016, 2017
Third time's a charm – as they say. The Tony Award-winning Crossroads Theatre Company has captured our 3rd consecutive NJ Stage Award for the Best Theater in NJ to see a World/NJ Premiere.
This award means so much to our company because we enjoy producing history. Every time we do a play for the very first time, it's historic. It is thrilling to have the playwright in auditions, in the rehearsal room, in the preview performances as we make tweeks and adjustments to refine the play so that the storytelling is more meaningful to our audience. Can't do that with Master Shakespeare as well as other titans of dramatic literature like August Wilson, Lorraine Hansberry and so many other greats who no longer walk this Earth.
Since 1978, Crossroads has produced over 50 new plays, several of which are important literary testabments to the canon of American theater and are produced quite regualry. Plays like The Colored Museum and Fly. During my tenure at the artistic helm of Crossroads, we've produced 12 new works.
Ya'll realize how hard it is to produce a new play, right?
So much goes into it – even beyond tightening the script so that the story flows more efficiently. There's basic items that a writer doesn't usually think about until production – like costume changes. Let's say it's a really powerful and dynamic scene that takes place a night with our main characters in their pajamas. The next scene takes place at work so the lead character needs to be dressed in a business suit. As an audience member, do you really want to sit in darkness for 30 seconds while the lead actor strips out of his P.J.'s into a suit?
NO!
The play has never been done before so it's up to the producing theater along with the playwright and the director to solve this problem.
Do you add another scene in-between which will allow for the costume change?
Do you use projections or music or a funky scene-change to keep the audience engaged while the actor is getting dressed?
Who know??
That's the exciting part about producing world premieres – the answer isn't apparent. It's up to the writer, director and sometimes the producer to solve this problem.
And that's historic!
That's why I love producing new works. And I'm honored that the NJ community has recognized this significant accomplishment of our company.
We will continue to produce new works that challenge both writer and audience alike.
A portion of our mission states that the Crossroads Theatre Company is dedicated to:
Providing a nurturing working environment for writers and artistic collaborators through supporting the commissioning, development, presentation and documentation of new scripts
In addition to the new works that were produced prior to 2006, here are a list of plays developed under my leadership:
Fly by Trey Ellis & Ricardo Khan
Through the Night by Daniel Beaty (transferred Off Broadway)
The Last Fall by Stephanie Berry
Train to 2010 by Sibusiso Mamba
The Adventures of Fishy Waters by Guy Davis
The Talk by France-Luce Benson
White Lilies by Walter Mosley
Kansas City Swing by Trey Ellis & Ricardo Khan
Lift by Walter Mosley (transferred Off Broadway)
Repairing A Nation by Nikkole Slater (broadcast by WNET/Channel 13)
Autumn by Richard Wesley (production by Billie Holiday Theater which won Audelco for Best Play)
College Colors by Stacie Lents
Beyond the Oak Trees by Kisha Bundridge
Sarah Sings A Love Story by Stephanie Berry (starring The Voice contestant Tamar Davis)
And we look forward to our very next world premiere – BACK TO THE REAL – an outrageous comedy that challenges audiences living in today's social climate.
Recent Posts
#ThinkTheatre
Theatre is ethereal. What happens on any given night only happens once.
---